This family of Magpies has been coming to my house for about 3 years now. They have a particular call for me on days when I've not put any food out yet.
There is a large bear population in this area making it a bad idea to have a compost bin with scraps of food in it so they recycle my left overs for me and in exchange provide some entertainment.
I've read that they prey on eggs and nestlings of smaller birds but my huge flock of sparrows and finches don't seem to mind them, even when nesting so perhaps it's the scarcity of food that makes they prey on smaller birds.
I have no idea why this fellow has a crest on his head. I didn't see it when taking the photo and even enlarging it didn't reveal why.
He does have a beak full of stale muffin.
The photos aren't great as magpies are hard to capture with a camera. They are very alert and intelligent so the slightest movement scares them away
Here are a few Magpie images by various artists for sale at Zazzle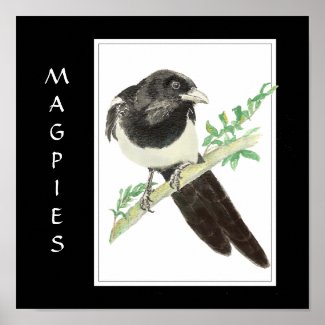 Watercolor Magpie in Bird, Animal Collection
by
countrymousestudio
sell your art
online with zazzle.
I love the pose of this Magpie on the Fence from
aquartistic
A Magpie perched on a fence
by
aquartistic
View other
Magpie Bags
The colors are beautiful on this one from
lemmingsolution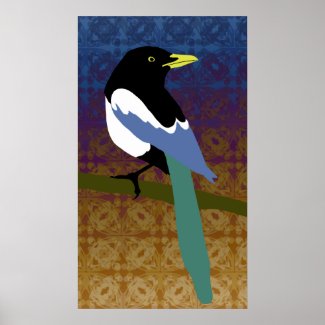 Yellow Billed Magpie
by
lemmingsolution
Browse
Yellow billed magpie Posters
Great bird images for all species available from
birdorable
Cute Magpie
by
birdorable
Create a
full color post card
on Zazzle